Nissin Ramen Black Garlic Oil Tonkostu 出前一丁棒丁面黑蒜油豬骨湯味 178g - Expiry on 02.08.2019
One of the more interesting varieties left over from the Nissin Foods Hong Kong Meet The Manufacturer. This one's very new; a two-serving pack with a pork bone broth and black garlic oil fun! Let's check it out!
Here's the back of the package. Contains pork. To prepare, add noodles to 450ml boiling water and cook for 3 minutes. Add powder sachet to a bowl. Add noodles and broth to bowl, stirring broth as it pours out with the powder you already put in the bowl. Add in black garlic oil. Stir and enjoy!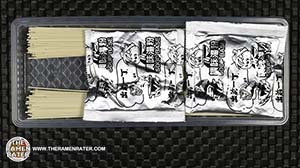 Here's what you're greeted with when you open the package: two of everything.
The straight noodle bindle.
The powder base sachet.
A light powder.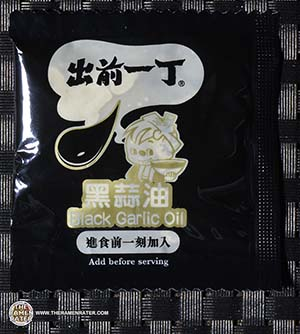 The black garlic oil sachet.
Black. Garlicky. Oily.
Added Salad Cosmo mung bean sprouts, chashu pork, spring onion and nanami togarashi. The noodles are just perfect – perfect firmness and chew! The broth is a creamy tonkotsu augmented by the black garlic oil. Rich, hearty and very giving. This stuff is just sensational! Easy 5.0 out of 5.0 stars – super impressed!